Images
Most of these images have been shamelessly grabbed from Satoshi Kon's Sennen Joyu page

---
| | |
| --- | --- |
| | Pictures of Chiyoko as a baby. She was born in 1927, during the great Tokyo earthquake. From there, all the important events of her life seem related to (or triggered by) earthquakes. |
---
Portrait of Chiyoko as a young girl. In Japanese, the title of the movie is "sennen joyû", which literally means "thousand years actress"
---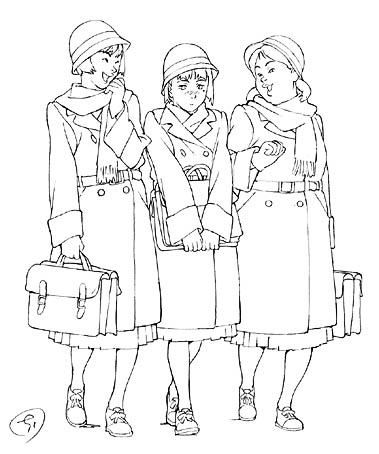 Chiyoko with her schoolmates teasing her about falling in love. What they don't know is that she has really fallen in love with a mysterious painter wanted by the police.
---
Poster for one of the first movies in which Chiyoko starred. In this movie, Chiyoko played the role of a nurse who was searching for the man with who she was in love. This role so closely matches Chiyoko's own search for her mysterious painter that I have to ask myself if this was really the story of the movie, or if it was rather the events of her life that were told through the characters of the movie.
---
Chiyoko as a young star on the cover of the magazine "movie club".

映画 : movie
倶楽部 : club

(read from right to left in the image)
---
Poster for a movie where Chiyoko stars as the wife of a Japanese Lord who is captured by his enemies. She is fooled by a spirit into thinking that her lord his dead, so she drinks the poisonned tea that is offered to her, only it is not the kind of poison she thought it was. It is the "tea of a thousand years" which curses her to forever burn in the flames of eternal love. This curse is an important point in the movie, because that ghost comes back to haunt her and because she really DOES remain forever in love with the stranger that she met only briefly.
More images from that same movie.
---